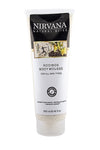 Rooibos Body Mousse
Ask about this product
Guaranteed Safe Checkout

Suitable For All Skin Types
Discover the natural power of Rooibos, a beloved plant native to South Africa that has been revered for its nourishing and healing properties for centuries. We know that no skincare collection would be complete without this hero plant from South Africa, and we're proud to feature it in our luxurious body mousse.
Our Rooibos is sourced from the pristine Cederberg mountains of the Western Cape, where it grows in harmony with the surrounding landscape. Packed with antioxidants and other vital nutrients, this plant is a true wonder of nature. Our expertly crafted body mousse harnesses the full potential of Rooibos to provide all-round nourishment for your skin, helping to prevent premature aging and leaving your skin feeling silky smooth and beautifully fresh. Give your body the love and care it deserves with the natural goodness of Rooibos body mousse. 
 To Use: Apply generously as needed on entire body preferably massaging in small circular motions.
Size: 250ml/8.45 fl oz
Complement With:
 Nirvana Natural Bliss Rooibos Hand Wash 
100% Botancial actives used.
Free From Formaldehyde, Lanolin, Hydroquinone, Parabens, SLS/Sles, Talc, Mineral Oils/ Petroleum, Liquid Parrafin, Pthalates, Urea, Dyes, Alcohol