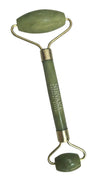 Nirvana Natural Bliss Dual Jade Facial Roller
Guaranteed Safe Checkout

It's as hot now as it was back then!
The Jade roller is a time-honoured, traditional practice handed down through generations and has been around from the 7th century in China.
The Jade stone is believed to have healing and protective properties for the skin. Some beauty strategies stand the test of time and this is true for the jade roller!
The Dual Jade Facial Roller has a smaller roller at the bottom of the handle too, which is great to use on smaller areas of the face or around the eyes.
Benefits:
Boosts blood circulation
Assists lymphatic drainage which can prevent or clear breakouts
Reduces swelling
Diminishes the appearance of fine lines around the forehead and eyes
Reportedly allows for deeper penetration of facial oils or serums or moisturisers 
To Use: 
Cleanse your face with any one of Nirvana Natural Bliss Facial Cleansers and dry with a towel. Then gently use the Jade facial roller to roll in an upward (from the neck to the forehead) and an outward direction. Use the small roller rolling from the corner of the eye outwards.
You can also apply a serum or a facial oil on your face before using the roller which will help increase absorption into the skin.
For an extra soothing effect and to reduce any puffiness around the eyes. Massage gently and do not apply too much pressure.
To clean simply rinse in warm  soapy water -do not use harsh detergents or soak in hot water.
Good to Know: 
Sourced from a verified supplier  from the country of origin - China. For hygiene purposes this product may not be returned. Sale is final.
*Note that the Nirvana Natural Bliss Dual Jade Facial Roller will differ in colour and pattern from the illustration as it is made with Natural Jade Stone. All Jade Rollers have a velvet pouch bag. 
Featured In: