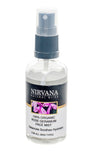 Organic Rose Geranium Facial Mist
Guaranteed Safe Checkout

Hydrosols are pure floral waters created by steam distillation of fresh, aromatic plants. Not only will the beautiful floral aroma uplift your senses, but also has an array of skin healing properties. Rose Geranium hydrosol tones, balances, soothes and hydrates all skin types and is excellent for dry, oily, combination, sensitive and acne-prone skin. This travel-friendly packaging is great to keep in your bag!
Made With
Organic Rose Geranium (Pelargonium Graveolens) hydrosol
To Use
Best to use after cleansing skin and before application of moisturiser.  Mist face anytime throughout the day as required.
As Featured In